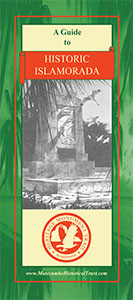 Explore Islamorada and the Florida Keys
Visitor Guide
The Matecumbe Historical Trust Corp. is a 501(c)(3) non-profit organization dedicated to the education, history and preservation of the Florida Keys.
Our Mission: To enrich the lives of Florida Keys residents and visitors by providing them with the region's history, artifacts, photographs and other historically significant resources.
Our Vision: To preserve the history of the Florida Keys by building the Irving R. Eyster Museum which will display and house historical artifacts, documents and memorabilia.